For website owners, the benefits of doing business internationally can often be seen instantly. An increase in sales, an improved conversion rate and the edge over your competitors are just some of the reasons business owners go multilingual.
However, the prospect of translating a website can seem daunting for many, purely down to the number of words on your site and particularly for those with ecommerce stores with often thousands product pages and descriptions.
Translation tools offer a new and efficient way for those looking to translate their website, combining automation and human accuracy.
Let's take a look at how using website translation solution Weglot and TextMaster can enhance your website translation project.
What is Weglot?
Weglot is a website translation solution that allows you to translate and display your site in multiple languages, in minutes. Removing the hassle of handling multiple websites for multiple languages, Weglot both translates and displays the content of your site and provides multilingual SEO features.
With a simple and fast no-code set up, Weglot removes the technical side of website translation and delivers a fast, first layer of automatic translation. This significantly speeds up the usual time time a website translation project would take.
For many, automatic translation can be enough, however, Weglot has created an intuitive translations management dashboard that easily allows users to make manual edits to every automatic translation.
Not everyone is fluent in dozens of languages, so for Weglot it was important to partner with trusted translators to improve this experience for its users. Through Weglot's dashboard, you can order professional translators with trusted partner TextMaster which provides accurate and human reviewed translations.
Translation quality
The beauty of Weglot is it allows its users to set their own translation quality. The type of translation quality you display on your website is entirely down to you and your brand messaging. Weglot facilitates three translation options within the Weglot dashboard:
Automatic
Weglot provides a first layer of machine translation which means your website is 100% translated and you're ready to start doing business internationally instantly.
Manual reviewing
If you have an international team, or you yourself speak more than one language, you can make quick edits through the Weglot dashboard and enhance the automated translations.
Professional translation
FInally, you can order professional translations through the Weglot dashboard. This gives you the reassurance that all your translations (or a selection of your most important pages) have been reviewed by professionals. All professional translation orders made through the Weglot dashboard are sent to TextMaster who will deliver them in 24-72 hours.
How to translate your website with Weglot and TextMaster
Weglot is compatible with all website CMS and non-CMS technologies. Simply navigate to Weglot's integrations page to find your website technology.
Depending on your integration, Weglot will take just 5-10 minutes to install. And, most importantly, there's zero code involved in any of the integrations, meaning anyone can add this website translation solution, in a matter of minutes!
Once you've integrated Weglot you'll have an instantly multilingual website from a first layer of machine translation.
Next, we'll order professional translations from TextMaster through the Weglot dashboard.
Step 1: Select translations
In your Weglot dashboard go to your Translations tab and then click into the language you want to send for professional translation.
Select the translations either individually or select everything within a particular URL.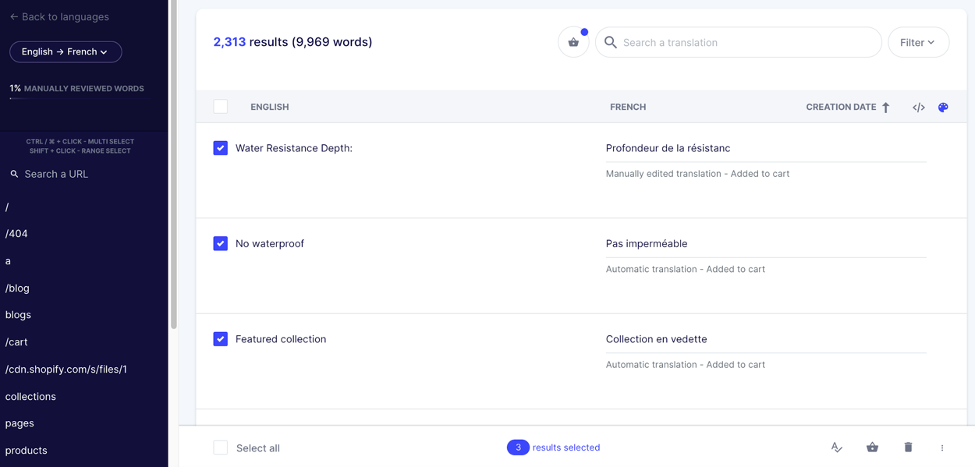 Step 2: Send to TextMaster
Then click on the basket icon in the bottom right corner.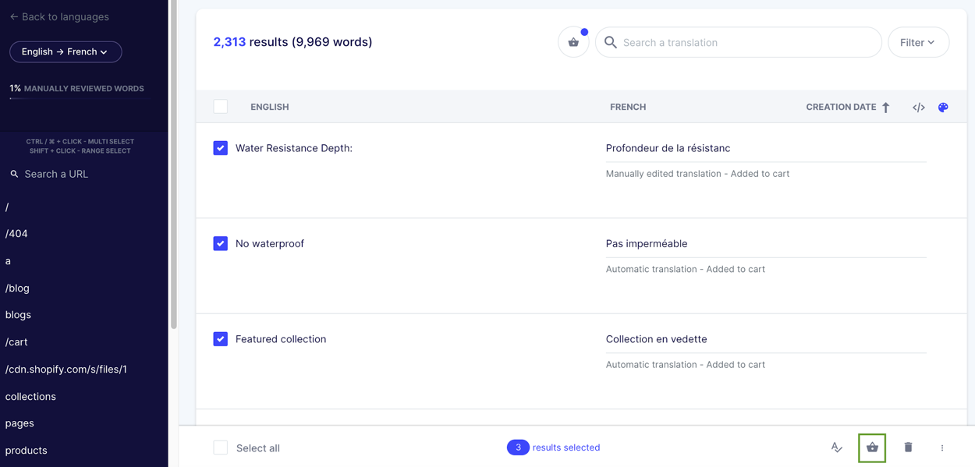 Step 3: Review and send order
The final step is to click on the basket icon at the top of the page with a blue dot (indicating you have translations in your basket).
This will take you to the payment page and give you the chance to review your order.

You can also give some specific details to TextMaster to give more context to the translations you're sending to be reviewed professionally.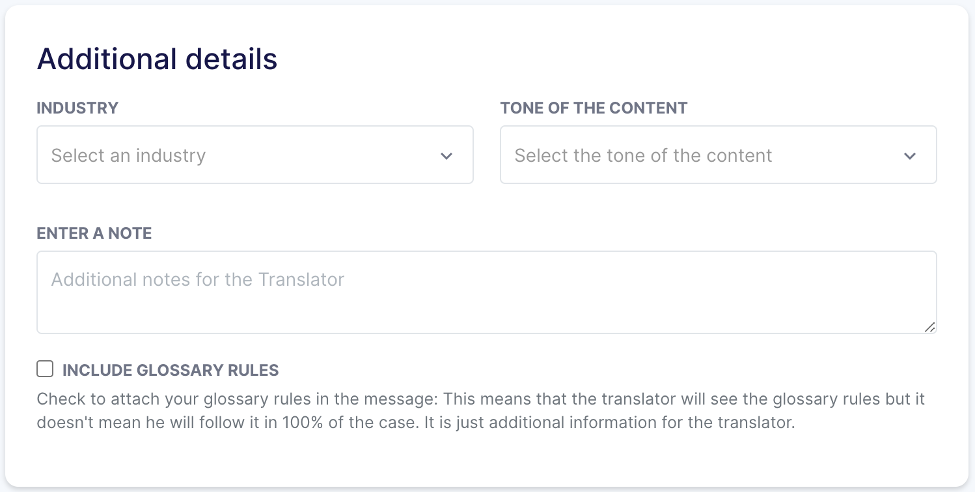 Then once you're happy with everything simply click on the 'Pay' button. In 24 to 72 hours depending on the size of the professional translation order, your translations will be available. You have nothing to do! The professional translations will be automatically added to your website.
Try Weglot's 10-day free trial and start translating your website.