We all know that the world has been going through an unprecedented crisis for some time now. Since the new coronavirus known as COVID-19 began to circulate, various different markets and industries have been experiencing difficulties, with businesses forced to cut back on their activity. But all is not lost!
While some companies are starting to return to the office and braving public transport once again, others are continuing to work from home. Many are asking the same question: will the economy and trade ever get back to normal and, if so, when? Although there is currently no clear answer, one thing's for sure: we should all be preparing to return to normal.
Some countries have gradually reopened their borders and many businesses are finally resurfacing. However, it's important to remain vigilant, primarily for ourselves, but also for others. The unprecedented situation we have all been living and working through for some months now isn't going to disappear overnight. While we need to take great care, we should also continue looking ahead to better days together!
---
Discover how to take your e-commerce business international
---
COVID-19: a unique crisis
How things stand
The ongoing pandemic has been all anyone's talked about since the start of 2020. the appearance of the Covid-19 has forced world governments to take drastic action to protect their citizens' health and millions of people have been (or still are) subject to lockdowns and protective measures. But what makes this global challenge so unique? After all, the world has faced health, financial, economic and housing crises before. This time, however, we're in the midst of a pandemic that has also created an economic crisis.
And it's intense: Europe hasn't seen such rapid business decline since World War Two.
COVID-19 is also unusual in that the virus has made people feel so uncertain. As things stand, we don't know what will be happening in the coming months, or even weeks!
Significant economic impact
One key indicator that can be used globally to compare countries' economic activity is GDP. And it has fallen off a cliff, mainly due to the pandemic and the exceptional response measures required. This can be seen everywhere :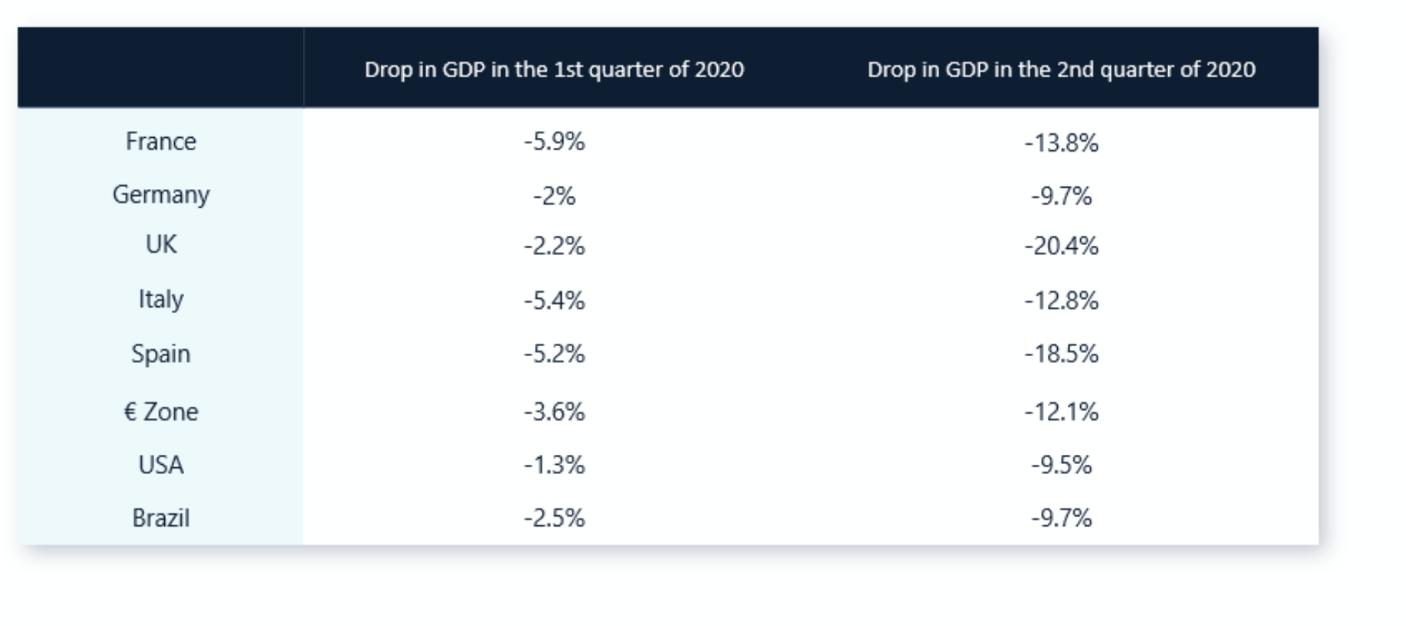 Meanwhile, China has seen its GDP bounce back 11.5% in the 2nd quarter of 2020 as the pandemic has been contained in the country. That said, this level is below China's growth rate in recent years.
Although some areas of the economy have managed to keep their heads above water, not all have, with the sectors most affected those linked to leisure and socialising, like tourism, culture and restaurants. Many Europeans went on holiday within their own country during summer 2020, which will have helped make up for the previous almost-complete shutdown in these sectors. However, some businesses are still desperately waiting for normality to resume, like nightclubs, concert halls and aerospace companies.
This disparity can be explained by the type of work carried out by these sectors. Any business that could quickly switched to digital working at the start of lockdown, with different amounts of preparation, reluctance and success.
But millions of workers were unable to be part of the "great homeworking revolution" that was seen during lockdown (and is still ongoing).
Positives of the pandemic
Remote working is growing slowly in Europe
Before the pandemic, just 5.1% of France's labour force were regularly working from home, according to official 2019 figures from the Statistical Office of the European Union. A Eurostat study published in March 2020 said that, since COVID-19 began circulating, homeworking has become much more common across Europe. With almost 10% or more of their labour force working regularly from home, the Netherlands and Finland (14.1%), Luxembourg (11.6%) and Austria (9.9%) have seen homeworking boom. This has led to work continuing and productivity surging (mainly through not having to spend time commuting) for many companies.
Skype, WebEx and webinars have become the norm for millions of Europeans. With the advent of homeworking — long advocated by freelancers and tech companies — things have changed. While the office has always been a place where staff can work, now it's just one of many. Welcome to the future of work!
More staff now want to work wherever they choose, adjusting their hours and schedules for a better work/life balance as they alternate between the office and homeworking.
Companies that allow remote working can also enjoy its benefits:
Financial
Businesses that permit full or partial homeworking can use smaller offices with a flex office system where staff don't have their own desk, but can work wherever they want on or off the premises. This reduces the cost of premises and property management.
Environmental
Fewer staff travelling into the office means fewer daily journeys and fewer CO2 emissions.
Psychological and human
Homeworking leads to a better quality of life with more of a work/life balance. It also makes the companies offering it look more attractive, which expands their talent pools. Staff working at more flexible organisations have a sense of wellbeing which leads to a range of benefits. According to a Harvard and MIT study, happy workers are 31% more productive, two times less ill, six times less absent, nine times more loyal and 55% more creative, no less!
Various studies in 2018 were already showing that the longer people commute, the less time they spend at the office, the less they build relationships with colleagues and the less they identify with the company.
Regional
The potential for increased homeworking due to COVID-19 could have major medium- and long-term consequences for regional revival and population redistribution in Europe. Working remotely, whether partially or fully, can encourage staff to choose a different life. How many city-dwelling friends do you have who are now wanting to leave town for the country, all since the lockdown? You might even fall into this category yourself!
"At TextMaster, we have an international team of staff who are open to homeworking, as well as all the tools needed. But when we were suddenly forced to work from home as the lockdown began, we had to learn how to work in new ways to stop this imposing limitations and disarray. 

 The priority has been to make sure our staff are happy and producing quality work. One of the keys to successful homeworking is trust between the manager, the direct report and their team. Micromanagement is no more and staff have become more independent and productive as they feel empowered and have improved their time management.

The other keys to homeworking success at TextMaster have been communications tools and practices. We've made sure not to just rely on email: instead we're using phone and video to maintain direct contact. Our managers have to see how their teams are feeling and how motivated they are. For direct reports, non-verbal communication from managers conveys things they need when working remotely like encouragement, affinity and enthusiasm. Managers have also had to carefully maintain strong links with their teams to stop them feeling isolated. They've had to be a listening ear, acknowledge messages from their team, be available, give feedback, encourage team meetings, and more…

Our weekly staff meetings have allowed us to hold onto this group dynamic. But now we're partially returning to the office, we're trying to organise these meetings for days when all staff are in. Activities like sipping a morning coffee with your team, eating lunch with colleagues and celebrating a birthday all create opportunities for informal interaction that we should strive for on office days to foster team cohesion."

Geoffroy de Panafieu, TextMaster CEO
Homeworking has undoubtedly been the big winner in the pandemic. It's a new model – just like e-commerce, which has been growing for many years and also become a model of consumption.
E-commerce is on a roll
According to an article published in Le Monde, online food and mass-market product purchases doubled during lockdown compared to the same period in 2019. Hypermarkets are developing their omni-channel strategies with click and collect. Although this shopping method proved its worth in the last few years, it has really developed during the pandemic.
During the second stage of lockdown, households kitted themselves out with the technological accessories needed for homeworking like screens, headphones and computers. Next came the time for leisure and wellbeing, which saw some industries explode:
Cooking utensils: we all have a neighbour who has turned into a real chef thanks to Jamie Oliver's influence.
Sports accessories: is there anyone who hasn't given in to an online yoga class?
Home decor, gardening and DIY: your best friend will almost certainly have thought themselves an interior designer for a few weeks.
And many others.
What next? 
It's now clear that COVID-19 has been a boon for some business sectors and encouraged more digital activity. But can we expect to see businesses recovering? What will the long-term consequences be for the most-affected sectors?
While the autumn will provide some answers, one thing's for sure: to survive, businesses must show they can adapt and keep on innovating!