What is LangShop?
LangShop is an app for translating Shopify stores. Its main feature is fast automatic translation using several translation drivers. The app supports 241 languages and allows automatic translation for most of these languages. It also has different features for localizing and optimizing websites for international SEO.
Automatic translation is fast and allows a large amount of content to be translated in a short time. However, it's not perfect and can't be compared with professional translation work. Consequently, some LangShop users also wanted to be able to translate content professionally.
When LangShop was looking for partners who could help them implement this option to improve their services and meet merchants' needs, they decided to cooperate with TextMaster. Now, LangShop has one more important feature – professional human translation.
Types of translation and cooperation with TextMaster
Now, there are 3 ways to make Shopify stores multilingual:
Auto – provided by several automatic translation tools like Google, Yandex, Watsons, Bing, Baidu, etc.
Manual – inside the application, you can translate content or edit the existing automatic translation manually.
Professional – provided by the TextMaster platform and its network of professional, specialized translators. Translations are done by the best translators and meet the highest standards.
Combining these methods (or using one of them) you can transform your local one-language store into a multilingual global business and boost sales significantly.
How to translate your Shopify store professionally with the LangShop app and TextMaster
Shopify store owners can order a professional translation within the LangShop application. To order a professional translation done by a human translator, you should do the following:
Step 1: Select items
In the app's admin view, click on the section with the items you want to make multilingual. As an example, let's translate a few products. First, go to the Products section and select some items. Above the list of products click PRO translate.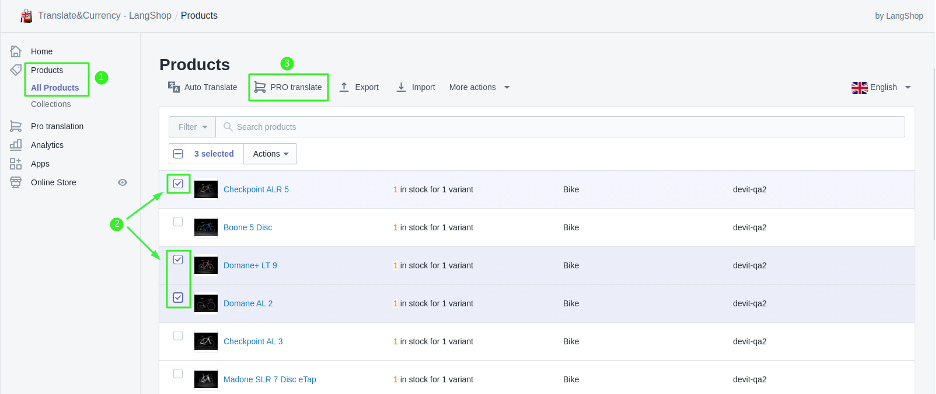 You will see a window where you need to select a language(s) and field(s) for the translation => Add to cart.
Step 2: Manage items
Now go to Pro translation => Cart.

Your products were added here. Click on the language pair, check the order and manage items if needed (you can delete or add new items). Press on the Next button to continue.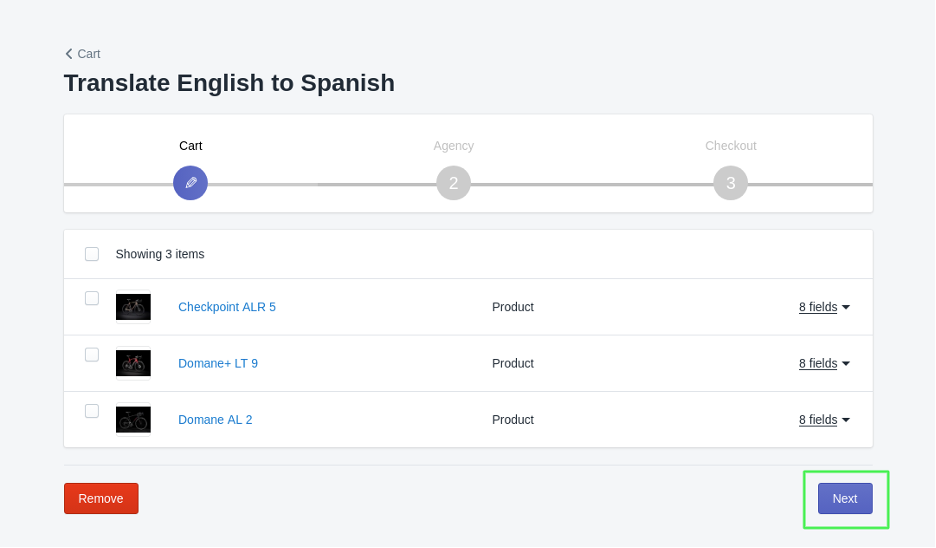 Step 3: Advanced settings
Now you need to select the content category and language level. There is also a field where you can write your comments and translation requirements. Click Next.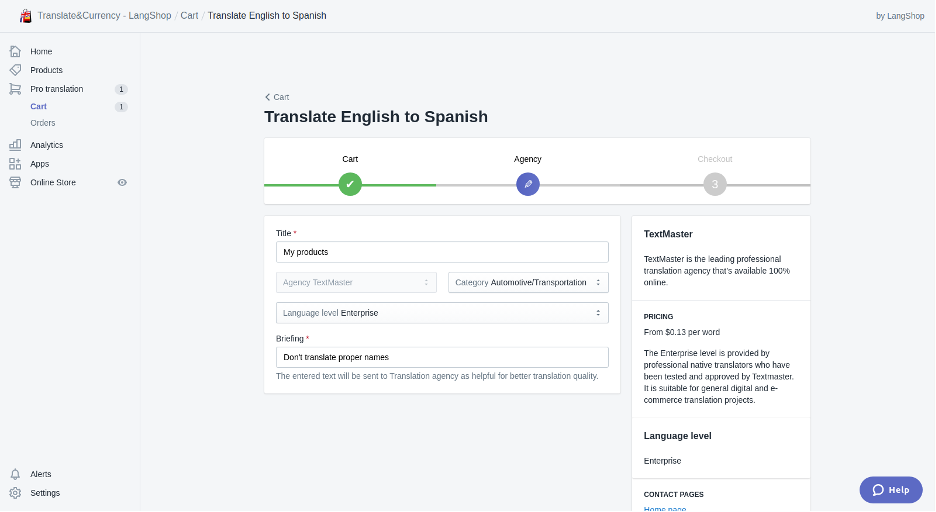 Step 4: Get price
On this step, LangShop calculates the order and displays a price. If you agree, just press on the Pay button to approve the price.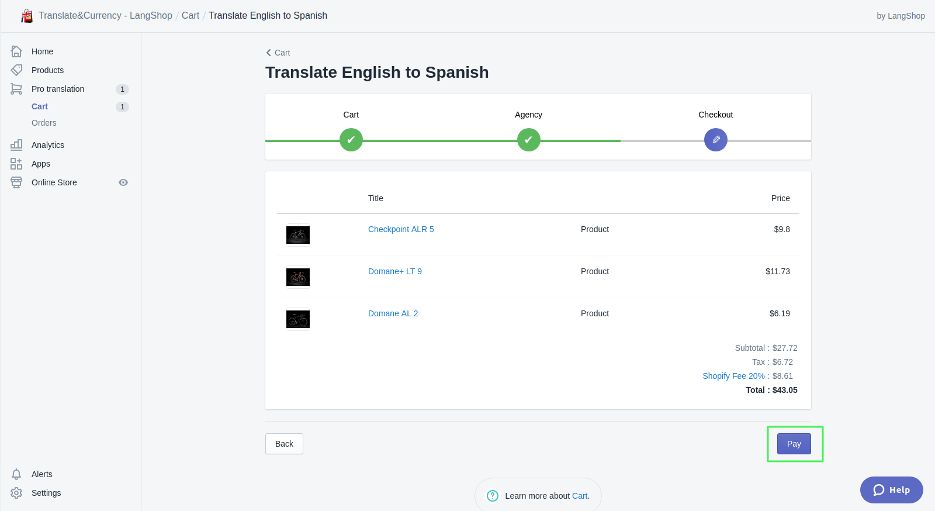 Now click Approve charge.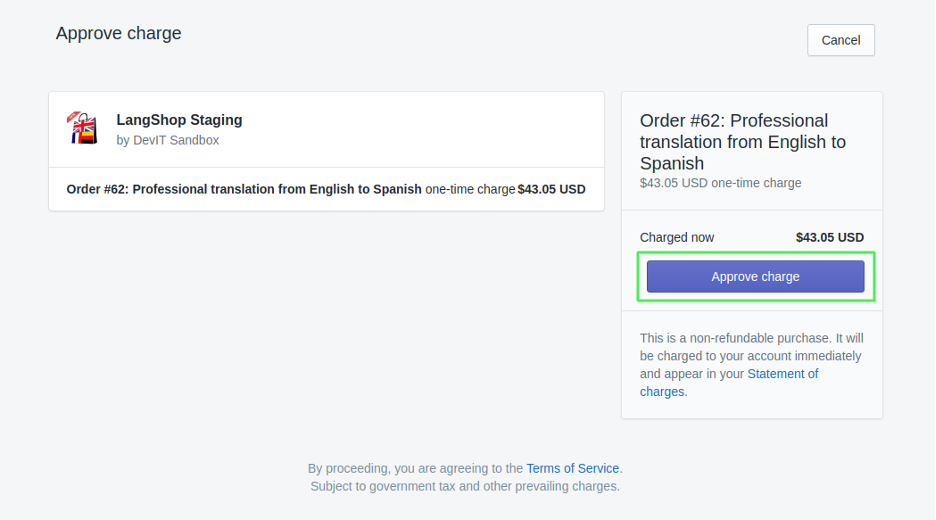 Step 5: Wait for the translation
After these steps, your order will be sent to the TextMaster service for the translation. This step requires some time, but you can check the status in the Order section.
Step 6: Get a translation
When the order is completed, you will see the status "Waiting for review". Check the work. If everything is OK, click => "Mark as reviewed".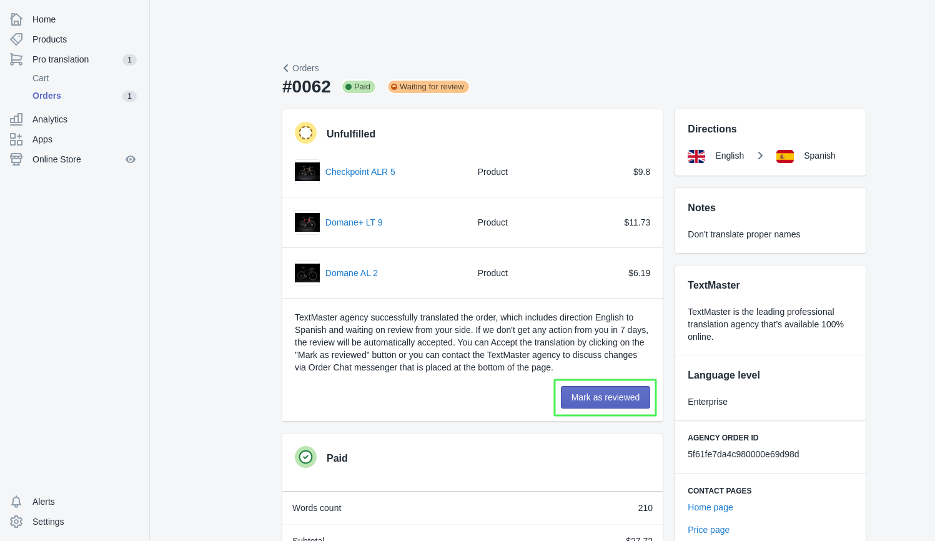 If you need to change something, add a comment and send the order back to TextMaster.
That's all you need to know about making your store multilingual with professional translations through the TextMaster platform within LangShop. Only 6 steps and your international content is ready!
Thanks to this partnership, LangShop and TextMaster now provide LangShop users with the best solution to make your Shopify Store multilingual and ready for international markets.