When a user is browsing a website, they need to feel at ease and reassured. The "s" in "https" (that means "secure") is the first step in reassuring visitors to your online shop. However, it's not the only method you can use to reassure people… In this article, we're going to give you seven top tips to help you gain the trust of users.

1. Create a professional design 🖌️
Would you feel more reassured by the slogan "Belgian chocolatier since 1996" or "Online seller of chocolates"? 
Spoiler alert: the first slogan is more reassuring and creates more sales. It implies that the site's owner is carrying on traditions and has retained customers for more than twenty years. A slogan like that ensures that they are perceived as an expert in their field.
Other design-related features of your online shop can also reassure visitors:
Customer reviews and feedback
Your contact details at the top of your site
Online chat
An FAQ (Frequently Asked Questions) page
An "About us" page
The idea behind these tabs and/or information is to help you identify yourself to your audience. The more information you give them about yourself and your products, the more they will trust you.
---
Pro tip ℹ️
To win your readers' trust, we advise you to write and translate your product information sheets in accordance with professional standards.
---

2. Ensure that your site is secured by HTTPS 🔐

As we said in the introduction to this post, people are used to browsing sites that are secured by HTTPS. Landing on an unsecured site may therefore come as a shock to users looking for security and the real deal.
Leaving aside the fact that the adoption of an HTTPS protocol can improve your online shop's ranking on search engines.
Just as a reminder, "HTTPS" is the abbreviation of "hypertext transfer protocol secure". The aim of this protocol is to secure information exchanged between a person's browser and the server of the website they're visiting.

3. Provide secure payment solutions 💳
When we reach the point of heading for the check out, we are all reassured to see our favourite payment method displayed on the screen (PayPal, credit and debit cards, SEPA direct debit). This step must be the most secure to gain the trust of visitors to your online shop.
Check that your payment process complies with current standards. It should be minimalist whilst including the following compulsory elements:
"Add to basket" button on the product page
Basket page
Summary of the basket (with "promo code" or "discount code" field if you regularly offer them via your multilingual newsletter or other media)
Ordering and delivery information (recipient's phone number and email address, postal address or address of pick-up point, shipping costs, etc.)
Online payment information
Order confirmation page
Sending of an automatic confirmation email
Sending of emails relating to the progress of the order
This process must be as simple as possible to reduce the risk of errors on the buyer's part.

4. Create links to your business social media 🔗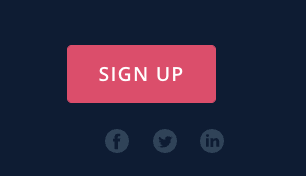 Social media buttons offer a means of reassuring visitors to your online shop.
If they have any doubts about your brand, they can go to your Twitter, Instagram or Facebook accounts and see that you have lots of followers and/or that you regularly publish on your socials.
The fact that you are in frequent contact with your customers is a real sign of authenticity.

5. State delivery times and costs on the product information page ⏳
To reassure buyers, increase their average basket, and build customer loyalty. We advise you to show delivery times and costs on the product information page. This information is very important to the consumer.
For example, if they want to give a birthday present to their partner in a few days and the delivery time is two weeks, then they'll look elsewhere! Also, if they have to go through the entire payment process before realising that the delivery time is excessively long, they will be disappointed and will have a low opinion of your online shop.
That would be a shame, wouldn't it?
To avoid becoming a complication of your prospects, we recommend showing delivery times and costs as soon as possible.
To encourage people to increase the value of their average basket, you can also offer free delivery when they spend over a certain amount (e.g., €60 or more). Don't forget to highlight this offer on your home page at the top of your site using a highly visible horizontal bar.

6. Clearly display return and exchange procedures 📦
Just like delivery times and costs, the procedures to return or exchange products are a very important part of an online purchase.
To reassure visitors to your online shop, you need to calm their fears, such as:
What to do if they receive a faulty or broken product
The product breaks down after a couple of weeks
They order trousers that are too small or too big…
All these fears are justifiable. Products often get damaged during transportation and sizes of clothing and shoes can vary from one brand to another.
It is therefore essential for people to know what the procedures for return or exchange are before committing to purchase. Online shops are increasingly adapting by lengthening the free returns period. The current trend is for a 60-day return period from the delivery date. Buyers therefore put greater trust in these online shops.
To reassure your future customers, the best thing is to have a "satisfied or your money back" policy and to offer free and easy exchanges for a minimum period of one month.

7. Take care of your online shop's legal notices and terms and conditions ⚖️
Lastly, you need to be sure that you are complying with the various laws that govern the internet, such as the GDPR, for example. To do this, you need to display your legal notices and terms and conditions to ensure that your site is compliant.
Even though visitors to your site are unlikely to read these notices, they may be surprised, disappointed or worried if they don't see them.

Reassuring visitors to an online shop: our memo 📝
In a nutshell, there are seven levers that will help you reassure visitors to your online shop:
1️⃣ Ensure your website has a professional design
2️⃣ Make sure the site is secured by HTTPS
3️⃣ Offer secure payment methods
4️⃣ Create links to your business's social media
5️⃣ Show delivery times and costs as soon as possible
6️⃣ Clearly display return and exchange procedures
7️⃣ Take care of your site's legal notices and terms and conditions.
If you apply these seven recommendations right away, people who come across your website will have greater trust in your brand.
And if you haven't already, check out our Eight good reasons to have your website translated.
---