The enormity of the tasks that comes with scaling an ecommerce business can be quite daunting.
You'd have to double down on your marketing efforts, product research, product fulfillment, etc. — all of which can take up monstrous amounts of time and resources. Not just that, the thought of quadrupling your earning capacity also comes with considerable risk.
What if you spend thousands of dollars on marketing yet still fail? What if you hired more people and purchased more tools yet fail?
When your opportunity to grow increases, so do the risks.
To simplify scaling your ecommerce business and help you make the process more seamless, consider these tips.
Use reliable product integration tools
Selling more products on your ecommerce store is part of scaling your business. The more products you sell, the higher your chances of getting more sales.
The challenging bit is adding more products to your store is a tedious and time-consuming task.
Even if you're running a dropshipping business — which is arguably one of the least risky ecommerce business models to pull off (comparatively, speaking) — you'd have to copy the product photos, descriptions, etc. You might have no problems doing this manually if you're selling 1 – 3 products, but if you do the manual process for hundreds of products, you'd pretty much spend the entire day copy and pasting product details.
That's why you need a reliable ecommerce platform and product integration tool that allows you to transfer product details from a third-party website into your ecommerce business.
With a robust product integration tool, what you'd spend countless hours integrating products to your store manually, would only take you a couple of minutes.
What's more, your level of accuracy improves while your chances of making a human error are drastically reduced because a software mostly executes the product integration task. This allows you to avoid needless — let alone, time-consuming — firefighting tasks, which help improve your productivity.
Bonus tip: Ask for a product demo of the software before you purchase it. That way, you better grasp how the product works even before you bring it into your company. Also, don't forget to include your designated team member who will use the software in the demo.
Another integration you should consider if you're selling internationally is a translation tool.
For instance, TextMaster offers a translation module integration with Drupal, allowing you to translate your website built on Drupal in just a few clicks.

You can access TextMaster's translation services directly from your Drupal interface, optimizing your translation workflow.
With the TextMaster API for Drupal, you get automatic content delivery and collection, HTML tag-based segmentation, choose translators, and set options (among other things).
It's an efficient way of establishing a multilingual ecommerce website and translating your web content so you can accommodate more customers all over the world.
Hire freelancers
Technology and processes can only do so much.
They're essential and can help you in many ways, but having a team of competent and reliable people runs your business brings a different value to the table that's crucial to your company's success.
That's why hiring freelancers, whether in ecommerce or other areas such as the life coaching industry, is a crucial step towards scaling your business.
There are loads of freelancers online equipped with skills and industry knowledge that even surpasses your own. These freelancers can even make sound decisions towards improving your operations. You don't always need to pay close attention to every nook and cranny of your business — your competent and reliable freelancer can do that for you.
Whether you're looking to integrate loads of new products, create marketing materials, fulfill orders, or bolster your customer support, working with freelancers can make your life easier.
The best part is, you don't always need to spend top dollar to work with fabulous freelancers. Since freelance marketplaces like Upwork have thousands of freelancers you can choose from; you are bound to find someone competent yet affordable.
Upwork even has filters to help you find your ideal freelancers fast.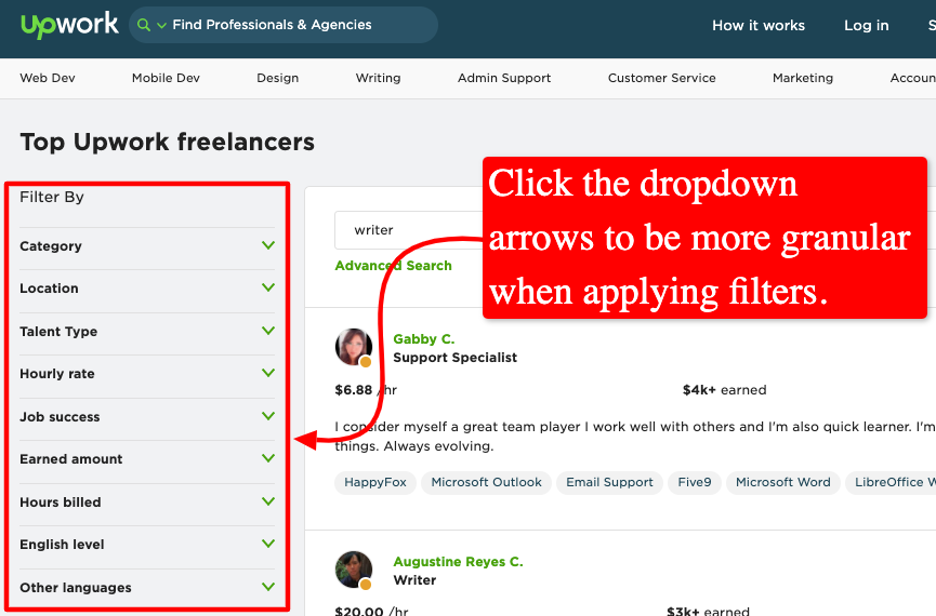 Stop being a one-person army and carry all the load by yourself. Employ the help of competent and trustworthy freelancers to lighten up your load and stress level, improve your productivity, and have more time for the more essential parts of scaling your ecommerce business.
Bonus tip: There are no two ways around this. Take the time to interview every applicant thoroughly. Having someone reliable, trustworthy, and competent to work with you is a huge asset. However, having an unmotivated, lazy, and insubordinate freelancer can cause you mountainous stress.
Get a robust ecommerce marketing platform
Having a robust ecommerce marketing platform is an absolute must if you want to scale your ecommerce business. With a feature-packed platform, you can reduce your expenses, generate more sales, and manage your marketing campaigns better.
If you're running an ecommerce marketing campaign, you'd be better off using a marketing platform with automation features. Choose a reliable email marketing platform that allows you to build automated workflows and send abandoned cart emails or SMS to your audience automatically when a trigger you set happens.
For example, you could set a workflow on the email marketing platform that gets triggered when someone adds items to their virtual carts but doesn't purchase. An email is then sent after an hour, reminding the shopper of their abandoned cart. If the shopper still doesn't complete his or her purchases, an SMS is sent.
Through the automation features of your ecommerce marketing platform, you can improve your email marketing ROI, boost your productivity, cater to more customers simultaneously, and have the bandwidth to work on tasks with a much larger impact on your business in the future.
Bonus tip: Don't just choose a platform based on reviews. Opt for a product demo and a trial period. That way, you have firsthand experience of the product — allowing you to judge accurately if it fits your business dynamics or not.
Additionally, if you're expanding your business to an international market, it would be a good idea to have the ability to communicate to customers in their language.
TextMaster provides an email translation solution called Loop that lets you send your content (the body of the email or an attachment) through email to a specific email address and get it translated. It's a great way to get your content translated via email on the go, and with TextMaster's professional translators, you can ensure your content's translation is correct and true.
You avoid getting your lines crossed with people you want to reach out to or communicate with in another language, whether they are your prospects, customers, suppliers, and other stakeholders, allowing for smoother expansion as you scale your ecommerce business.
What's next?
Scaling your ecommerce business doesn't have to be a backbreaking experience.
With the right strategies and tools, the process can be more straightforward and painless than if you scale your business manually. The more streamlined your process for running your store, the more money you save from spending on needless manpower hours — you get more profit as a result.